Cutco Customer Service
For over 65 years, we have been committed to exceptional experiences.
Cutco Sharpening & Repair
Can you sharpen my knives?
Yes.
As part of the Cutco Forever Guarantee, we'll sharpen your knives and return them like new.
How much does sharpening cost?
Sharpening is free. There is a return shipping fee, so that we can send your items back to you.
| Quantity of items sent | Return shipping fee |
| --- | --- |
| 1–3 products | $7 |
| 4+ products | $10 |
How long does it take to have my knives sharpened?
Once we have your package in Olean, N.Y., please allow two to three weeks for the processing and return of your products.
One of my products broke. What can I do?
Send it in and our skilled craftsmen will inspect the product to determine if we need to repair it or replace it with new product. It's that simple. We will then ship the product back to you.
If the damage was caused by misuse or abuse, we will replace the item for one half of the current retail price.
Where do I send my products?
If you live in Canada, please request service online, and send your product with your printed service request confirmation to: 2172 Wyecroft Rd, Unit #1, Oakville, ON L6L 6R1
Ordering Cutco
Why are you adding sales tax?
Cutco Corporation is a direct sales company and does business in all 50 states, and because of this Cutco is required to collect and remit sales tax.
I have a promotion code. How do I apply it?
If a promotion requiring a code is currently applicable, at checkout you will be provided an option to apply it.
How do I cancel an order?
Please call customer service at 1-800-361-8800 or
contact us by email
. When emailing, please remember to provide your name and order and number.
What is your return policy?
If within 15 days of receiving your product you are not completely satisified with your new product, you may send it back for a full refund.
What types of payment methods do you accept?
We accept the following methods of payment: VISA, Mastercard, Discover, American Express or the Cutco Gift Card. ACH is available when placing an order by phone at 1-800-633-8323.
Do you provide payment plans?
For orders $200 or more, you can break your order into two equal payments. For orders $300 or more, you can break your order into three equal payments.
Cutco Shipping
Do you ship internationally?
At this time, we only offer shipping to the 50 states and Puerto Rico.
Is shipping free?
For your convenience, shipping costs are included in the price of each product.
Express shipping options (Next Day and 2 Day) are available for an additional cost.
When should I receive my order?
With regular shipping, you should receive your order within 7 to 10 business days.
American Made. American Proud.
"Made in America" is more than where we manufacture our knives. It's a deep-rooted commitment to providing American jobs that support families, quality American products and exceptional American service.
When other companies chose to outsource operations overseas, Cutco dug in its heels and made a promise to stay for the long haul. We've been here since 1949 and have no plans to leave.
American pride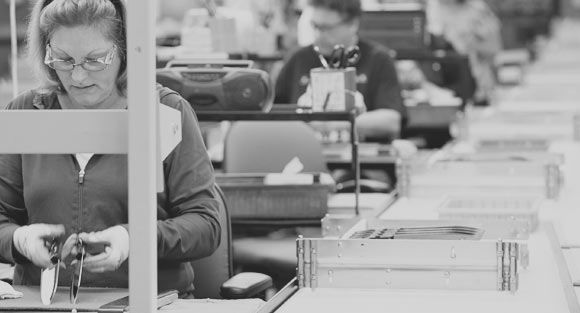 Everything leaves the Cutco factory meeting Cutco's quality standards. Skilled workers perform checks throughout the manufacturing process to assure every knife meets stringent requirements. It's that attention to detail that makes Cutco special.
American satisfaction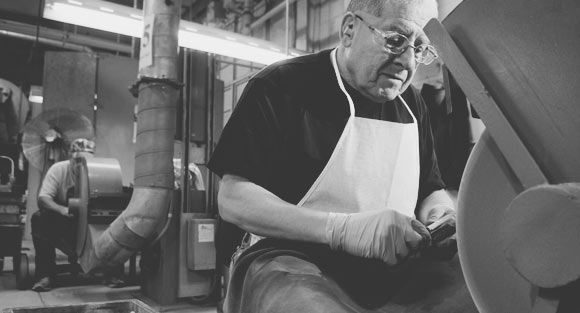 Every Cutco product is backed by The Forever Guarantee which ensures we're there when you need us. We'll sharpen and repair your Cutco knives, for free, forever.
When you need help, our highly trained customer service team provides exceptional service. They're just a phone call, email, live chat or social media message away.
Learn more

This is Cutco's unwavering promise and
it is at the heart of everything we do.
Cutco is for generations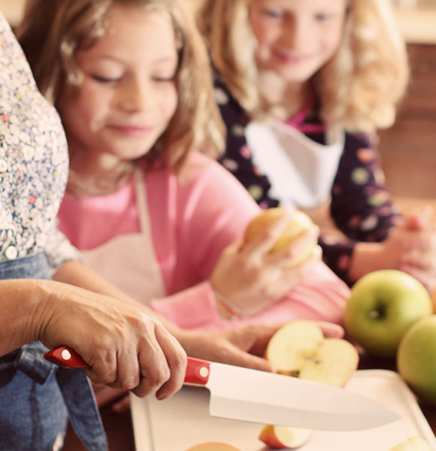 Since 1949, Cutco has been manufacturing high-quality cutlery in Olean, N.Y. In that time, over 16 million people have welcomed Cutco into their homes.
If at any time you are not satisfied with the performance of your Cutco product we'll make it right. Whether you made the initial purchase or you received Cutco as a gift, it's our guarantee that your Cutco products will perform like new. Forever.
Cutco is built to last
The high-quality materials and unique production processes combine to create products that are built to last.
Cutco stands behind every item that leaves our factory. With over 65 years of expert craftsmanship, Cutco makes knives and kitchen products you can depend on. Forever.
What Cutco will do for you
When you send your well-loved Cutco products in for sharpening or repair they will be cared for as if they were our own. Your products go through a detailed multi-step process and are returned to you like new. There's no receipt or registration required.
Learn more
×
Unlock Your Specials
If you have bought Cutco, you may be eligible.
Unlock Now